As the Head of Innovation Portfolio at Telefónica, Susana Jurado is a force of nature tackling transformation at the grandest scale. She is laser focused on delivering innovation and strategy as a member of the core team that defined the current innovation model at one of the world's largest and most diverse telco's —Telefónica. Susana is the co-author of the Lean Elephants report, describing the experience and learnings of applying Lean Startup to innovation projects at Telefónica since 2012. She holds a MS in Telecommunication Engineering and an Executive MBA from IE Business School
—
After applying Lean Startup to a couple of innovation projects and to an ideation program, in 2012 we redefined our innovation model, turning this methodology into the core way we innovate. At the same time, we made another big change; we started our intrapreneurship programme launching Innovation Calls. Through this programme our employees can submit their ideas and, if selected, get to work on their ideas and become intrapreneurs.
When we started we had no actual idea how things would turn out. Now we have our Lean Elephants innovation framework: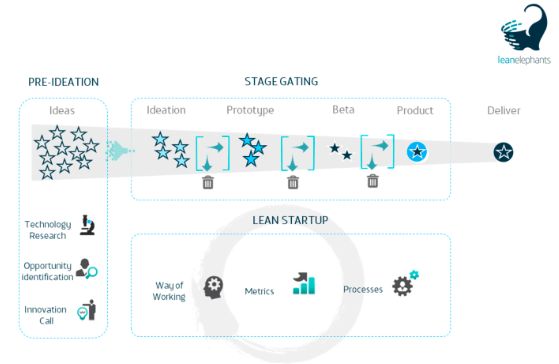 Lean Elephants enables us to focus on the customer, validating the potential business model of a product from the very beginning. Thanks to our stage-gating process, we ensure that investment in our internal venture increases as the venture progresses. By keeping track of validated learnings, there is less uncertainty, this is what Eric Ries calls metered funding in his latest book "The Startup Way". This way of funding allows us to minimize the resources and the risk we run in each of our ventures. We are also fostering intrapreneurship with our Innovation Calls. As a result, our Lean Elephants framework has allowed us to accelerate our innovations cycles: twice as fast as they were before. And, what's more important, we can discard sooner the ideas that don't work. Thanks to our framework we are able to test 45% more ideas within the same timeframe and budget, thus increasing the probabilities of finding a successful idea.
It is not easy to make this transformation in a large and established organization. Telefónica is not only a large company but has also more than 90 years of history, so we had to adapt the Lean Startup methodology to our context and find the way to make all these changes work.
In big and established companies you have a culture, processes, and other organizations you have to rely on. So we had to sit down with many people from different organizations to understand how they work and explain to them what we need and why. At the same time we also have to find out a way to help them as well. This is a way of engaging people from other areas of the company in our crusade. There is always a way to make it work for both, you just have to find it. For example, we now sit regularly with the different Business Units to understand the challenges their customers have, and focus our Innovation Calls on ideas for solving those challenges stated.
When we started with this new way of working we thought we had to bring in people from startups to make these changes work, but after several Innovation Calls, we realized that in a company of more than 120k employees, you can find this talent in house. In fact, we learned that people are just waiting for an opportunity to emerge and become visible. However, it does not matter if the people come from outside or inside, you have to create the right environment. If you want them to work like a startup within a big company, you have to trust your intrapreneurs and give them autonomy to make decisions.
This does not mean we are giving them absolute free rein. As I said before, our stage-gating process ensures that the investment only increases as the project progresses; the investment funds validated learnings and less uncertainty. In each stage-gate, teams have to bring answers to questions around key hypothesis and contribute a plan for their next steps. If they get the green light to go ahead, challenging deadlines and KPIs are set. It does mean, however, that you do still have to help them create the right teams; these teams must be multidisciplinary with a good combination of skills and profiles (technical, business, user experiences, etc.). Otherwise, the results won't be balanced.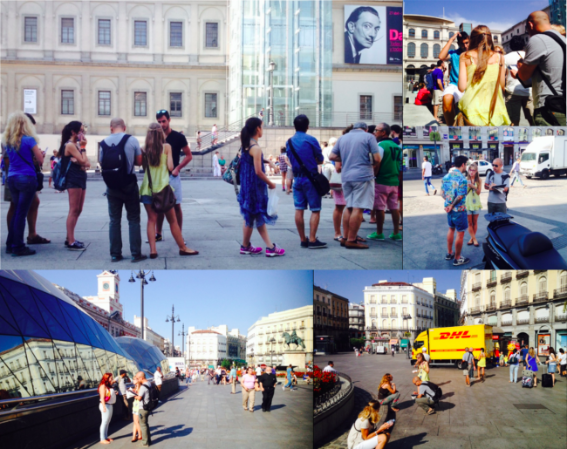 Working like internal ventures implies a different mindset and a different way of doing things. Teams have to get out of building to find potential customers and users in a creative way and have face-to-face conversations, to learn what the customer needs and what is really valuable for them, pivoting when a hypothesis is invalidated. They are also building products incrementally with short iterations and early market tests, validating every step with customers. In many cases, this is something they have not done before. Hence, they need guidance and advise, that is, they need training and mentorship.
When you work in a big company, there are certain experiments that startups do that we cannot do without making some adjustments. Because we have an established brand, a reputation, an existing portfolio, existing processes and organizations, like the branding or sales department, in which you have to rely on from the very first moment. The good news is there is always a method to test hypothesis in a way that works for you, you just have to be creative and find it.
Of course, being a large company has its advantages and when creating new products and services you can rely on your assets, like the network in our case. But we are also limited in our experiments because the telco market is a regulated market, as well as Service Level Agreements with our customers we have to fulfill. Therefore, when experimentation relies on our assets, we have to be extremely careful and must comply with the legislation and, at the same time, be careful not to jeopardize the core services we offer to our customers.
For example, in one of our ventures we were trying to build a new service based on our network. We had to build an MVP we could show and give our customers so that they could test and understand how the service should work. However, the changes we had to make on the network and, in particular, on the provision process were really important. This would take time and a lot of resources, because we had to guarantee the current services provided by our network would not be affected. Therefore, the MVP the team designed was an application web for the customers, but all actions triggered by the customer through the application were actually carried out behind the scenes manually. At the same time the technology and the service development would have to be tested in the lab.
To make this MVP possible, the team had to talk to several departments within the organization (marketing, operations, etc.) to understand how their processes worked and to engage all the people involved in those processes, getting to the last link in the chain, in particular the technicians that would have to make manually all the operations. This is what we call 'digging inside the building'.
Working like an internal venture encourages you to bring market validations and customer tractions to the table, which gives you serious credibility at an Executive Committee meeting, but getting support from top management and stakeholders is still key if you want your innovation ventures to move forward in a large company. This is what Henry Chesbrough calls 'getting upstairs in the building'.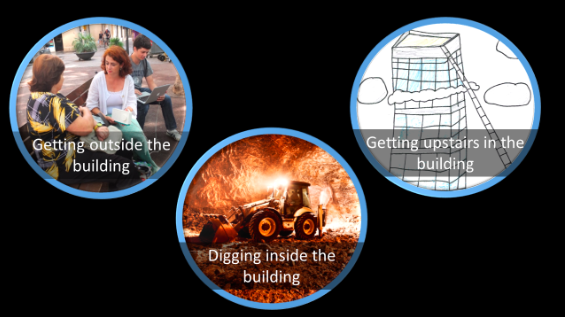 Our intrapeneurs must be able to navigate the company, because corporate innovation needs to be pushed outside in the market but also needs to find its place inside the company. Therefore, they not only have to get outside the building, like entrepreneurs, but they also have to get upstairs in the building to get executives buy in, and dig inside the building to engage all the people in the company.
Intrapreneurs need to perform all three of these tasks. Hence, intrapreneurs in large and established companies have not only a lot of work to do outside the building, but inside the building as well.
If I had to highlight the most important learnings of our adventure, these would be:
These changes take time, so patience is key. Do not be in a hurry and start small. There is a lot of uncertainty with creating intrapeneurial venture, therefore you have to minimize the risk and learn how to do things right before you scale.
There is no right or wrong culture. Instead, become an expert in your culture so you can find the way to make these changes work in your company. Look for external expertise for this transformation if necessary, but do not forget that you are the ones who know best your company, so internal people in the company should lead the change.
This way of working implies a different mindset, a different way of doing things, and people need help and support to learn to work this way. Hence, it is key to provide training and mentorship. Then, empower your people to make decisions and encourage multidisciplinary teams.
Results have a powerful voice of their own; once you have your first results, show that this transformation can really make a difference. This will help you to get leadership buy in and support and to engage people from other areas of the company.
It is important to master the art of killing. Stopping ventures when there is no traction is essential, but it is equally essential that we make sure we learn from it; not just at an individual level, but as an organization. By killing a venture that is not progressing you can give another team the opportunity to be successful with another idea. But when you kill a project, make sure a debriefing session (or process) takes place to learn from past project mistakes and find practical and actionable ways to share what you've learned across the organization. This way you avoid frustration within that team that killing their venture can produce when their work and efforts go nowhere.
Keep evolving. Review your innovation framework and model periodically so you can learn continuously and rely on the lessons learned to change. Evolve and improve how you do things.
The magic about all this is that by doing something different, whether you want it or not, the company will change. You do not need to involve the whole company to start that change. One team, one organization, can start the change.
If you want to learn more about how we addressed these changes, the challenges we faced and our learnings I invite you to read our Lean Elephants whitepaper.
---
Telefónica is one of the largest telecommunications companies in the world by market capitalization and number of customers with a comprehensive offering and quality of connectivity that is delivered over world class fixed, mobile and broadband networks. As a growing company it prides itself on providing a differential experience based both on its corporate values and a public position that defends customer interests.The company has a significant presence in 17 countries and almost 350 million accesses around the world. Telefónica has a strong presence in Spain, Europe and Latin America, where the company focuses an important part of its growth strategy. Telefónica is a 100% listed company, with more than 1.5 million direct shareholders. Its shares are traded on the Spanish Stock Market and on those in London, New York, Lima, and Buenos Aires.