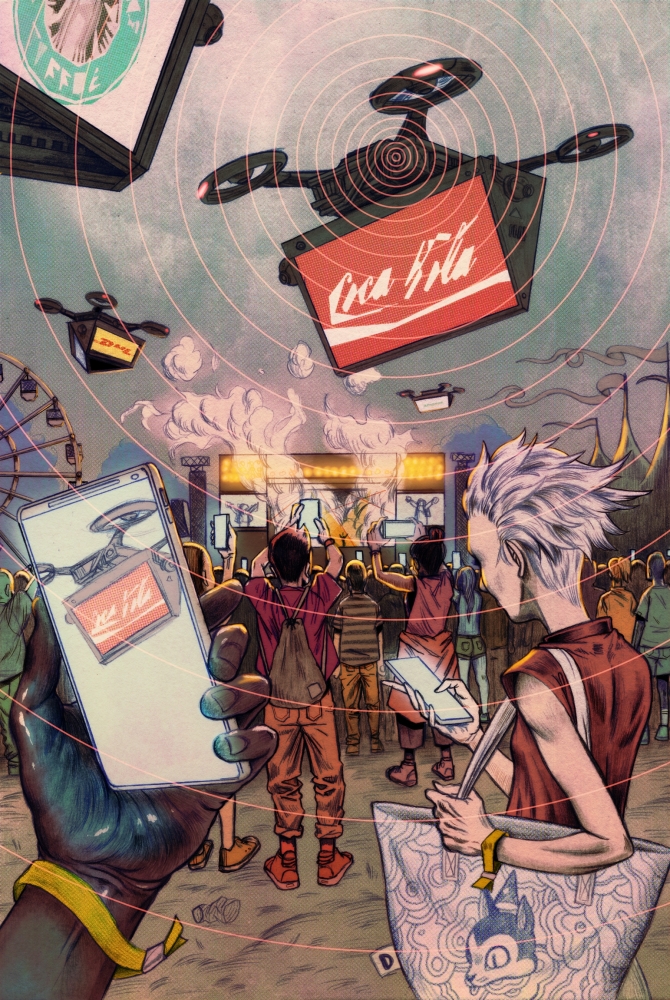 Co-Founder of PromoDrone, Jamar Williams gave us a high level on turning Drones into a Marketing tool.
Can you give our readers some background on PromoDrone? PromoDrone started as an idea that existed in the brains of two strangers at the same time in different places. Jamar Williams and Xavier Rodriguez. One day, the two of us strangers met through a mutual contact who thought we would be good drone buddies. He had no idea that we would be spear heading the evolution of outdoor advertising. One day while at my former office in North park, Xavier came to visit and during our chat asked me if I had ever tried drone advertising. He tried flying banners at an event at the beach and it didn't work out so well. I replied, "Interesting, I actually have tried it before myself!" What Xavier didn't know was that about a year earlier I tried to fly a banner on a drone for a networking event in downtown San Diego. Let's just say, it also didn't work out as planned. With two minds working towards a common goal now, we set off to tackle how to effectively fly aerial drones with banner signage in a way that would grab attention, spark curiosity, and boost the impressions for a specific message or brand.

How did you get this idea to use Drones for marketing and advertising purposes?
I became interested in drones around 2015 when we began using them for real estate at my other company, Dream Shore Studios. My then partner and I would fly the drones for capturing real estate content before it was as big a thing as it is now. Whenever we flew I noticed that people always observed, pointed, and couldn't help but ask questions and engage just from looking at the drone. One day I had a shower moment and a lightbulb in my head turned on. "What if we could hang a banner from a drone and capitalize off of the attention we get from people's curiosity and fascination?" This was the beginning of my own curiosity and journey to see if there was an actual business opportunity to be had.

How do you respond to the public's concern about drones in regard to safety, security,and privacy?
The cool thing is that drones are now much more common than they were when we first started out. The laws have become much more transparent and consistent and even though there are some people who may never like them, a far more majority of people have no issue with them from an operational standpoint. You can now buy drones of all shapes and sizes for consumer, hobby, and professional ops. That being said, we respect every person and business rights to privacy and only operate incompliance with FAA laws. The drone platform that we use as of today is from a large global supplier with lots of technical redundancy as standard protocol. Our banners and patent pending frame are lightweight and made from snap a part pieces to reduce any damage or injury. Since our platform is meant for outdoor events we are able to operate as part of the event setup as inclusion in their privacy agreements.

What's the biggest challenge you and other drone companies face in this industry? Do you need special permits to operate the drone in public?
I'd say the biggest challenges are regulatory and technology based. FAA regulations for UAV operators have come a very long way with the introduction of the LAANC system. This system allows us to file for authorizations and waivers to be granted access to restricted areas and to flyat night. For us, we are looking to be able to fly over people one day and are working on our Generation 3 platform that will give us the advantage in being considered for that hard to obtain waiver. As for technology, the simple answer is, flight time. Most drones are limited to around 20-30 minutes of truly capable flight time, which requires multiple rounds of batteries. As the technology continues to improve, we will be seeing much longer flight times with larger payloads. In addition, our team of pilots are all FAA Part 107 certified operators.
We consider our data census level where we are able to provide our ad partners with age, race, gender, and satisfaction level based on outwardly visual observations.
Can you tell us more about the Wi-Fi Data capture? How does it work? What kind of systems are you using to analyze the data you capture?
Our Gen 3 system includes A.I. crowd sampling and reporting. It has the ability to use recognition software to analyze the demographics of the people in the crowd that we are promoting towards. This data is purely demographic and does not include any personal identifiers such as name, address, social security number, social media account, etc. We consider our data census level where we are able to provide our ad partners with age, race, gender, and satisfaction level based on outwardly visual observations. These observations provide important ROI information and helps our customers target amore specific consumer subset and get the most out of their advertising spend.

How have you seen this help improve marketing efforts for companies you've worked with?
Absolutely! In addition to the onsite attraction and fan reactions while flying our banner system, the fan fare gets shared online via social capture. When people see the drone not only do they pay attention to it but a certain amount of the audience captures the moment via smart phones and post the experience to their social media or share with their immediate circle of contacts. This gives the banner content an additional impression boost and provides multiple levels of engagement and reactions even after the event is done. It's the gift that keeps on giving!!

Do you have any issues with piloting the drones? I know that there are certain regulations for commercial drones such like having to be close by the drone andonly operating over sparsely populated areas.
The banner drones have some degree of dynamic control which requires trained and qualified pilots. We only operate in cases where we feel completely comfortable and can perform safely, consistently, and effectively. We use what we call "drone zones", to operate in compliance with FAA regulations and still be effective at engaging crowds at events.
How do you plan to maintain a lead in the market in this industry?
A strong culture of safety, innovation, and appreciation. We want to mitigate as much risk as possible by deploying the best pilots with the safest technology we can provide while innovating to keep the experience fresh and results based. Our appreciation for each and every customer and their stakeholders is one of our core values and our goal is to create exciting, engaging, and memorable experiences as we satisfy current fans and create new ones with each lift off.
We want to mitigate as much risk as possible by deploying the best pilots with the safest technology we can provide while innovating to keep the experience fresh and results based.
Where do you see the future of drones in marketing/advertising heading towards?
Our goal is to lead the aerial drone advertising and promotions evolution and scale to a point where our technology is an expected part of an outdoor event experience. As the number of certified operators continues to grow nationwide we are able to bring our platform across the U.S.and even further and deliver a first class new age marketing channel and many new tech based job opportunities

We like to ask all our contributors one final question: can you give us one work or life hack you use on a daily basis to stay successful?
When building anything, focus on where you want to be, not just where you are today. Where you are today will always be changing but if you are focused on the bigger goal, you will incorporate the appropriate behaviors and activities that will get you closer to the big dream. I find time to work really hard and then when I am free for leisure, I make sure to give my brain the space it needs to reflect, stay inspired, and re-engage to get to the next level.
---
Jamar Williams is the Co-Founder and Director of PromoDrone, an aerial advertising firm that is redifining how companies deliver consumer engagement to expand awareness. Jamar is an entrepreneur, team player, and leader. Additionally, he is also the CEO of Dream Shore Studios, a full service video production company specialzing in real estate multi-media. Jamar is an alumnia from William Paterson Unveristy of New Jersey.
Keep up with Jamar on LinkedIn.
Illustration by Damien Didenko.