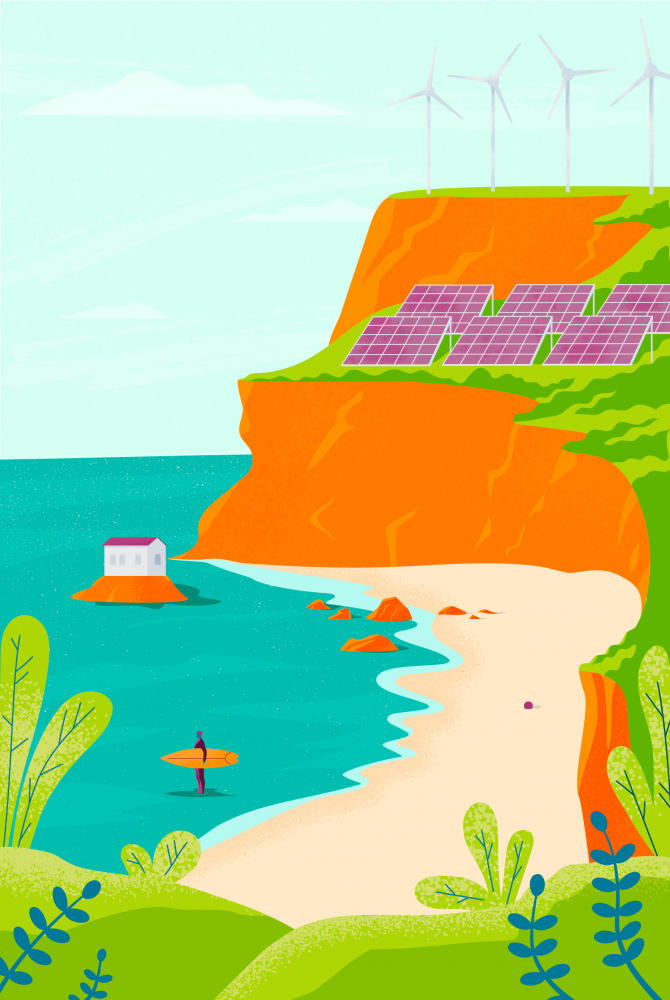 Jason talked to us about Cleantech San Diego taking a leading role in developing Smart Cities and renewable energy.
Can you give us an overview of Cleantech San Diego and what you guys are doing here in the city?
Cleantech San Diego was launched 12 years ago, in 2007. At that time, the global warming solutions act (AB 32)had recently been passed in California and ambitious topics—like 100% renewable energy goals—were starting to be discussed at the state level. In many ways, it was exactly that kind of legislation that set the State of California on the bold trajectory we see today, as far as it relates to taking a leading role in addressing global climate change.
While the state was moving forward with pretty aggressive climate regulations, we—from a local San Diego perspective—wanted to make sure that the business sector was also part of those conversations. After all, if a state intends to implement higher goals around energy efficiency, electric vehicle transportation, and renewable energy generation, the private sector has a pretty important role to play in meeting those goals.
With this in mind, Cleantech San Diego was formed as a trade association with a focus on economic development and advocating on behalf of the clean technology industry. As the organization grew, forging partnerships and facilitating projects between varying public, private, and academic entities in our region became a natural next step. In fact, it is through these relationships that we have become more involved in helping to advance smart cities initiatives in recent years.
What were the initial goals behind establishing Cleantech San Diego?
We wanted to engage San Diegans and the local business community around what "clean technology" means for them—from both environmental and economic perspectives, but also from an economic development perspective.
As I mentioned, the State of California was setting some pretty ambitious climate action goals. The business community was quite vocal about the notion that if the state was going down this path—and if companies were going to invest in the deployment and development of renewable energy capacity—there had to be market certainty around that shift. Cleantech San Diego was able to take on the role of representing the cleantech business community in those conversations. Early on, we started to advocate at the local, state, and—to some degree—federal levels for policies that would help create market certainty and drive the growth of the cleantech and renewable energy sector.
Over the years, we have continued to follow the economic impact of this industry on our local communities. We see that it's important because, while people may not necessarily be environmental champions, they do understand economic impact. In as much as we can relate this industry to what it does for the environment—but also what it does for local job creation—those are strong selling points for the region.
Our second objective was to identify and brand San Diego as a leader in the cleantech and renewable energy sector, and to start thinking about the kind of role universities play in this space. At the time, we had about 125 companies operating in the cleantech space in San Diego. That number today is well over 3,000.
The life science industry is strong in San Diego; the military also has a large presence here, and the communications and wireless industries are also heavily represented. So, we've made a point of spending a lot of our time, both in and outside of San Diego, talking about what's happening here with regard to our thriving cleantech sector.
We wanted to engage San Diegans and the local business community around what "clean technology" means for them—from both environmental and economic perspectives, but also from an economic development perspective.
What kinds of things do you talk about? What's important for the world to know about San Diego, from a cleantech and renewable energy perspective?
It's not necessarily about just the jobs, or just the environment, or just the economy—but all of those together. We're really trying to push the message that here in California, government regulation as it relates to climate change hasn't stifled the growth of our economy. We're the fifth-largest economy in the world and we're one of the most highly-regulated states in the country. Those things are very important when you're talking about the success of our cleantech industry, and we've made a point to be very vocal about that throughout the years.
One of Cleantech San Diego's founders was Scripps Institution of Oceanography, which is home to some of the leading climate researchers in the world. Because of that affiliation, we prioritize looking at the impact and the deeper reason why all of this is important from a climate science perspective. As we go out and talk to different constituencies about the cleantech industry, we want to ensure we can talk with a fact-based and science-based approach. We are fortunate to have access to leaders at Scripps to helps us stay informed about what's happening to the climate and why the renewable energy and cleantech industries are so important to our environment, to our economy, and of course, to the planet in general.
Can you tell us about the Smart Cities San Diego initiative and what brought about the decision to start it?
Cleantech San Diego launched the SmartCities San Diego initiative in 2011 in partnership with the City of San Diego, SDG&E, GE, and UC San Diego. At that time, it was a much smaller group with a relatively narrowly-focused goal. Our initial efforts around smart cities were focused on building out the infrastructure for electric vehicle charging in our region. We knew there would be an increased demand for electric vehicles, and the State of California was pushing forward with aggressive goals around the adoption of electronic vehicles. The Department of Energy had named 11 cities that were to serve as EV testing grounds, and San Diego was one of them.
At that time, a company called ECOtality was deploying EV infrastructure into cities in order to support the anticipated growth in electric vehicles. Initially, Smart Cities San Diego was formed to help ECOtality, and to serve as an on-the-ground partner with ECOtality to build out as much charging infrastructure as we could.
Unfortuately, we didn't succeed. We hadn't anticipated that so much of what it would take to build out public charging infrastructure—especially from a permitting side of things—was really on the backs of the cities. Combined with the high cost and value of parking in San Diego, we ran into even more obstacles. There was a whole host of things that came up, and that was really, really challenging. I think we, as an industry, learned a lot about what needs to be contemplated in order to fulfill various requirements for compliance, permitting, and access to electricity.
Meanwhile, as that group went through growing pains, we started to look at other things as smart city opportunities. There's a solar-to-EV demonstration project at the zoo, which was one of Smart Cities San Diego's first outcomes. We brought a number of different partners to the table to build that out.
Then the whole notion of smart cities started gaining traction on a global level, and the focus shifted to looking at how cities and public agencies are using technology to better their operations and provide more benefits to their citizens.
How has the EV charging program evolved since then? Based on the charging spaces we have at the parking lot right next door to our offices, is it safe to presume the program is progressing successfully?
Yeah, it is. I think probably a couple of things happened. One of them is the market: there were winners and losers, those who were successful and those who weren't—and I think the playing field was leveled. For a while, it seemed like there was a new EV charging company popping up every day. But over time, many of them disappeared, leaving behind those with strong financial backing and a solid business model.
Another reason is that historically, utilities were prohibited from owning and operating charging infrastructure. The California Public Utilities Commission (PUC) originally took the approach that the market would work itself out, but the assumption that the private sector would be agile enough to put the necessary infrastructure in the ground didn't necessarily play out—for a number of different reasons. In response to this, about three years ago the PUC actually authorized the investor-owned utilities to get into the charging game, so to speak.
That was when we started to see more and more EV charging infrastructure showing up in the San Diego region. SDG&E launched its Power Your Drive program, which is focused on installing charging stations at multi-family and commercial properties. They're working with private sector companies like ChargePoint and others to do those deployments. This kind of business model has really changed the game and has lit the fire under the industry so we could start to build out the EV charging that is needed.
… The focus shifted to looking at how cities and public agencies are using technology to better their operations and provide more benefits to their citizens.
Can yout ell us about some of the other active smart cities initiatives going on in San Diego?
There are quite a few. Some of them probably wouldn't define themselves as smart city initiatives, but if you really step back and look at them, they're quintessential smart city deployments.
The big one right now that everyone's talking about is the City IQ intelligent streetlight project. It's a partnership between the City of San Diego and Current, powered by GE, which just got spun out of GE, and CityIQ is the brand behind the technology. The City of San Diego retrofitted a significant number of streetlights, and in the process, they installed a CityIQ node within some of the streetlights. They are deploying about 3,000 sensors on city streetlights, which makes San Diego home to the world's largest deployment of Internet of Things (IoT) sensors on streetlights.
The city is collecting anonymized data from the street lights,and they've already created some applications for that data. Rightnow, it's all primarily around crowd control, traffic management, and parking—the low hanging fruit.
The nodes in those sensors that are collecting a number of different data points, and the City has a data officer who manages that for them in addition to working with developers around the region. The City of San Diego, GE, and others are working with the application developer community to push all that information out on their open data portal and say, "Look, this is the type of data we have. These are some o fthe problems we're trying to address. What can you do with this data to solve some of those problems?"
There have been some hackathons throughout the year that were hosted by the City, GE, and others. As I mentioned, most of the applications I've seen to date have been around things like mobility, pedestrian and crowd control, and parking management. But the hope is that as the data is collected, people will see the value in that information and turn that around into a technology that's helpful not only to the city, but also to its residents.
One specific example that I find interesting goes back to our economic development focus . The sensors are able to see where there are crowds of people, for example, because Comic-Con is getting out. Food trucks can access that data, locate an open parking space, and show up. From a business perspective, those kinds of things make sense.
The City of San Diego is looking at applications like that, but they're also looking at how they can use data for public safety programs like Vision Zero, which aims to eliminate traffic related fatalities and severe injuries by 2025. That's probably the biggest and highest-profile deployment right now in the region. Other cities are also looking at streetlights as the 'it' medium for collecting data, and San Diego started that.
Another city in the southern part of San Diego County, the City of Chula Vista, has probably been thinking about smart city planning more than any other city in our region. They have a large development opportunity on their bayfront where there will be a hotel, a conference center, residential and industrial components—a little bit of everything. In order to get that project approved by the California Coastal Commission, Chula Vista entered into settlement agreements with the environmental community and had to do a number of different things. One of which was to commit to reducing onsite energy use and looking at onsite energy generation.
The hope is that as the data is collected, people will see the value in that information and turn that around into a technology that's helpful not only to the city, but also to its residents.
This got the City to start asking, How can we make this project—which is the largest undeveloped waterfront property on West Coast—a smart development? How can we include technology into that development to be a model of what a smart city, or a smart development could be? They are still working on that and Cleantech San Diego has been working with them on the plans since day one, helping the City learn from the private sector about the world of the possible and what they should think about as they develop that project. It is a long term goal, but it's definitely gotten Chula Vista thinking strategically about how to start incorporating smart city technologies into their overall city operations.
They've also been chosen as one of the Department of Transportation's (DOT) autonomous vehicle proving grounds. They've got a drone project they're working on with public safety. They have an open data portal. They're doing a number of different thing to really identify and brand themselves as a smart city.
Again, they look at it from a climate perspective, from an energy and sustainability perspective, but they also think about it from an economic development perspective. They ask, How can our city be seen as innovative, early adopters and technology? What does that mean for the local economics of our city and the people that live here?
How important would you say it is to keep security in mind when developing all these new smart city technologies? Doyou think there's a lack of security being given to these projects currently, particularly in those dealing with large crowd detection technology?
I don't think there's a lack of security. Whenever I hear cities or technology companies talking about smart city applications, there's a number of things that always come up. Privacy is a big one, and security is another. Then there's the data side of things, but that inherently touches on both issues of privacy and security.
At the end of the day, some of these smart city applications probably have no security threats to them. But for the most part, especially when you start talking about public safety, mobility, transportation, and energy, security plays a key role. I don't see that ever being left out of the conversation. It's been raised countless times. We've obviously seen examples of it—whether it be with breaches or other associated issues—so it does remain top of mind, not only for the cities or the public agencies or the citizens, but for the tech companies as well.
What enables San Diego to be such a strong pioneer for smart city development? Would you say we're leading the forefront on this?
It depends on a few factors. For one, the San Diego region is characterized by a significant entrepreneurial spirit. We have companies like Qualcomm, and we have people in leadership positions that are—at the end of the day—tech nerds. They're concerned with how to incorporate technology into their overall operations in order to save money and to provide better services. That's all just part of the culture here in San Diego.
And with SmartCities San Diego, we're bringing the public sector to the table along with the private sector. We're creating an atmosphere where companies can talk to cities and ask them, What are you looking at? What keeps you up at night? What can we help you with? That kind of collaborative spirit here, from a public-private partnership perspective, is one that we've been able to nurture under Cleantech San Diego and I think has actually helped to move the needle in our region.
Companies are really trying to understand, from a city perspective, what problems they're trying to solve and how technology can play a role in that. And via Cleantech San Diego, cities can sit down with companies that aren't trying to sell them something, but are really just trying to help them because they're San Diegans.
On the academic side of things, UC San Diego has a number of impressive things happening on campus. They're definitely a cleantech and smart cities powerhouse as it relates to thought leadership. And as I said, just having leaders who are really thinking about this—whether it be at the City of San Diego, the City of Carlsbad, City of Chula Vista, the port, or the airport—that plays a pretty big part.
In San Diego, what's the main driving force behind smart city development? Would you say sustainability outweighs economic development in this area?
To some degree, they're almost equal. Sustainability is often what starts the conversation. If we're talking about sustainability from an environmental perspective, we can look around the region at cities that have adopted climate action plans, and there are a significant number. On the other hand, if we look around at cities in the region that have adopted Smart City Strategic Action Plans, for example, that number is still small.
At Cleantech San Diego, we often talk about how climate action plans are the gateway to start thinking about smart cities. Climate action plans layout very big, bold goals around energy, mobility, and a number of different things—and the concept of smart cities is how technology gets us to those goals.
In San Diego, what drives a lot of the conversation is viewed through a sustainability lens, but if you look at most of the climate action plans in the area, and really think about how sustainability is discussed here, the economic development part of it is also very strong.
We're creating an atmosphere where companies can talk to cities and ask them, What are you looking at? What keeps you up at night? What can we help you with? That kind of collaborative spirit here.
What does the process look like to take a smart city idea and get it to a point where it's ready to be deployed and tested in a city environment? What's the typical timeline?What are the most common issues that come up in that process?
The truth is it can take along time. If you look at the smart streetlight project with the City of San Diego, they were working on that for at least three years before there was actually something in the ground. The RFP process alone can take quite some time. A lot of cities look at smart city applications as pilot projects at first, which can allow the cycle to be a little bit shorter, but even then it can sometimes be quite lengthy.
That's one of the biggest struggles. Cities have their permitting processes, their procurement processes and they're archaic, they're lengthy, and they're not necessarily adaptive for new technologies. A lot of the conversations we're having at the city-level right now are focused on fixing that. We've got to streamline these processes so that we're not approving a technology that will be out of date two years later.
As we travel around to different smart city conferences around the country, I think that issue is always recognized as number one. How to pay for smart city projects is closely number two. But the main question is, How do cities work with technology companies to implement their solutions in a timely manner, and without getting caught upin the bureaucracy? And you can't discount the fact that bureaucracy is there for a reason. But cities are looking at it from a procurement perspective: How can we update our processes so that what we're trying to do remains relevant and doesn't become outdated by the time it's ready to be installed?
I will say we've found that smaller cities are more agile than some of the larger cities, and this is the case for a number of different reasons. If you compare the City of San Diego to the City of Chula Vista, they're totally different sizes of organizations, and that creates its own set of issues in each case. That being said, cities of all sizes that are interested in smart city applications or any technology, whatever it may be, can get caught up in the procurement process. At the same time, they understand that's something they need to address.
Is it more common for the city to have an idea for a smart city project that it sends out for bid, or is it more likely one of these smaller self-proclaimed "smart city expert" startups would pitch an idea to the city?
It's a little bit of both. And it's not just small smart city startups, but large corporations—like GE, Cisco, and others—that are in the smart city space and are global and well-financed. They can have ideas that from their perspective are considered 'smart.' So, they go into a city, gain an understanding of what the city needs, and come up with ways they may be able to deliver value to them through technology. This is still, to some degree, a nascent industry, so those companies will work closely with the city to figure out a solution that works for them.
It's hard to sell a smart city solution that means absolutely nothing to the city and has no value to the citizens of the city. So that citizen-centric focus and benefit of the applications is really where, at least in our region, a lot of the cities are starting. There's definitely some value to streamlining internal city operations, but making sure the benefits are accessible to the residents of the city and that they provide value to the rest of the city is the top priority.
What are the best ways for people to get involved who are interested in either Cleantech or San Diego's smart city programs in general?
I think for companies and cities looking to gain traction in the smart cities movement, becoming active in our Smart Cities San Diego collaborative is a great way to start. Cleantech SanDiego also hosts quarterly Education Series events where we bring experts in to discuss a wide range cleantech and smart cities topics. Those events are open to the public and are posted on our website at cleantechsandiego.org. You can also sign up for our monthly newsletter to stay up to date on the latest events and news in all of these areas.
Our last question is one that we ask to all our interviewees. Can you leave us with one work or life hack that you use on a day-to-day basis that keeps you motivated, keeps you successful, you name it?
It's a non-technology hack, but for me being active in the morning and drinking plenty of coffee are my life hacks. I get up at 5:30AM every day. I work out as many mornings asI can in the week, and I can't imagine not doing that. Oh, and drinking plenty of margaritas.
---
Jason Anderson is the President and CEO of Cleantech, and manages the overall organization and leads several initiatives critical to the mission of the organization. Jason is also an Executive Director of the Cleantech Education Foundation. Before joining Cleantech, , Jason was VP of Business Development for the San Diego Regional Economic Development Corporation. Jason also worked in the State Capitol as Legislative Director for Texas State Senator Frank Madla. In 2014, Jason was named one of SD METRO's 40 Under 40. He is also a member of the City of San Diego's Sustainable Energy Advisory Board, the County of San Diego's Comprehensive Renewable Energy Plan Technical Advisory Committee, and the San Diego County Regional Airport Authority Advisory Board.
Keep up with Jason on LinkedIn.
Illustration by Lina Leusenko.